Family court orders are binding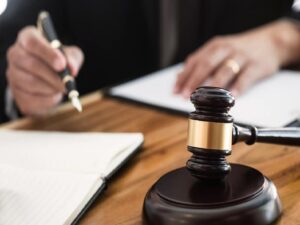 Court orders are binding for all parties, regardless of whether it is on an interim or final basis. Despite this, breaches of court orders are still extremely common in family law.
The important question is what can be done when dealing with breaches of orders?
Ultimately, there are three options:
Do nothing;

File an application to vary or set aside the orders;

File a contravention application to enforce the orders.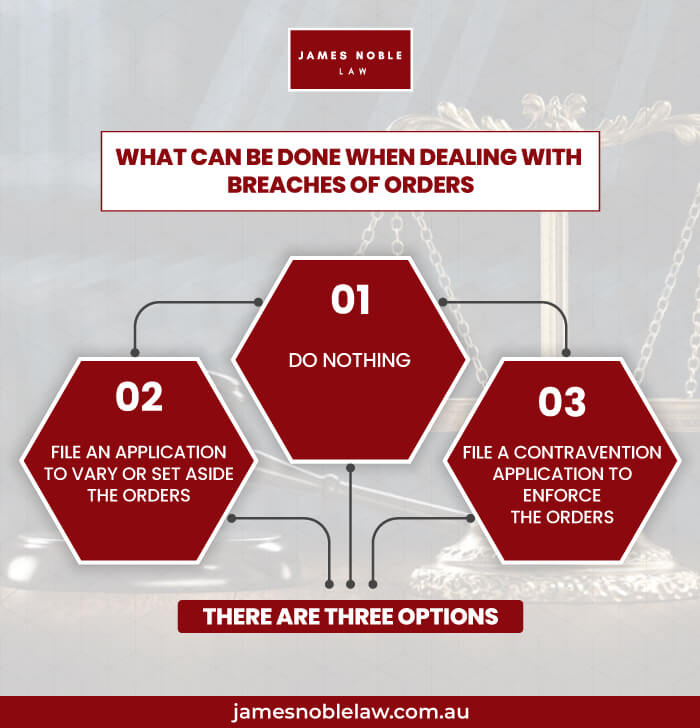 When it comes to family law, doing nothing may not be the most appealing option to you, but it may be the best option. For example, the other side may have breached interim orders by not making a payment, but filing another application and returning to Court with the trial coming up is likely not the time or cost-effective, and the matter can be dealt with at the trial.
If the orders were made on an interim basis, an application to vary or set aside the orders may be appropriate. This happens in circumstances where orders are inefficient, improperly drafted as not to be enforceable, or when a party uses the Orders contrary to their intent.
For example, the parties in Blackwell & Scott (2017) entered into consent orders for an equal division of property, which involved the husband paying the wife a sum of $130,000. The husband defaulted for an extended period of 13 months and the wife successfully brought an application to set aside the orders and seek an updated settlement pursuant to section 90SN of the Family Law Act 1975.
If the orders are properly drafted to be enforceable, the appropriate step would be to file a contravention application with the Court pursuant to section 112AD of the Family Law Act 1975. This is a tougher approach which can involve the respondent being subjected to the imposition of a bond, imprisonment (of no more than one year or until they comply, whichever is lesser), a community service order or a fine.
Importantly, there are also various enforcement remedies available for the client pursuant to the new Federal Circuit Court and Family Court of Australia (Family Law) Rules 2021. The Court may make an order:
Declaring the total amount owing under an obligation;

Stating that the total amount owing must be paid in full or by installments and when the amount must be paid; 

To prevent the dissipation or wasting of property; 

For costs; or 

Requiring the payer to attend an enforcement hearing.
As can be seen, there are a number of enforcement methods available to the client. In making an application to the Court it is important to carefully comply with the necessary procedures. 
If your ex-partner is breaching family court orders, or you require any family law advice, contact the Brisbane family lawyer team at James Noble Law today for a free, no-obligation 20-minute consultation.
Find Brisbane family lawyers on Google Maps near you.
You may also like to know more information about the