Best Time For Divorce
The promotion of the best time for divorce is intended to bring attention to the importance of minimizing conflict between couples following the unfortunate breakdown of the relationship. Common in these situations, both parties will be subject to a wide range of difficult emotions; inevitably though, both parties will suffer.  

During these times of significant transition, children often find it difficult to cope with the vast number of events happening. Children may typically display and feel negative emotions such as hurt, rejection, anger, abandonment, and fear for what the future may hold.

Accordingly, it is important for couples going through separation to never forget the children or how their actions may affect children's views. The consequences for some children during separation should never be underestimated, as various situations may bring about different emotional responses in children.
The Current Impact on Children
Research conducted in 2015 produced some interesting results in regard to how children view separation and divorce. Statistics suggest that:

82% of children who experience a break-up of their family structure said they would prefer their parents to separate if unhappy, rather than remaining together.
More than 60% of interviewed children felt their parents had not taken into account their opinions and feeling during the decision-making process of separation or divorce.
Approximately 50% of young people indicated they did not have a say as to which parent they would want to live with and where.
The vast majority of children thought it was important they were not "pushed into" or forced to choose between which parent they lived with.
Around 50% of children who participated in the survey said they didn't understand what was happening before, during or after their parents' separation or divorce.
Lastly, concerning 19% of children felt they were the reason that their parents separated.
These statistics indicate the consequences of separation or divorce on children can be quite alarming. These consequences can negatively affect children's academic performance, mentality towards substances such as alcohol or drugs, or other addictive behaviors.
Consider These Facts Before You Searching for the Best Time for Divorce
Additionally, a significant portion of children also complained about parents attempting to manipulate or turn them against the other. This sometimes occurs without the parent's knowledge and might even be done inadvertently. As a result of being negatively involved in the dispute, almost 20% of children said they completely lost contact with one or more of their grandparents.
Relationship Breakdown Often Can't be Avoided
Although separation or divorce is an inevitable course of the relationship, some of the pain and consequences resulting from these processes can often be mitigated.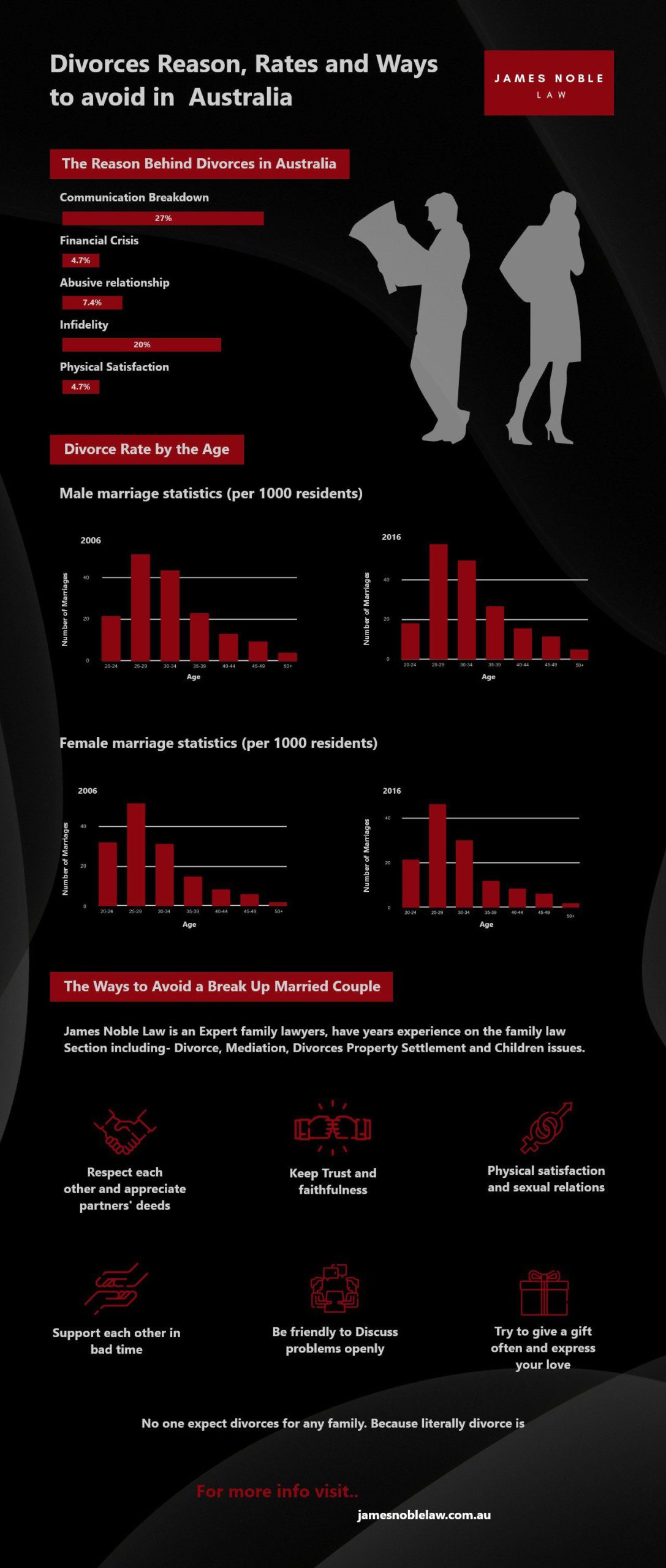 To positively deal with this kind of situation, children need to see their parents behaving sensibly, responsibly, and lovingly as parents, despite no longer being able to live together. If handled appropriately, children will be far more likely to overcome negative consequences of the separation or divorce, and be able to continue to make strong, lasting relationships with both parents.
Children Must Not be Forgotten
A common mistake made by parents during a separation or divorce is to assume the children are "alright" or "doing okay" and that their views are not important to the proceedings.
If parents are concerned about what effect their separation or divorce is having on the children, mediation or counseling may be an appropriate option. This process involves specially trained persons who see the children in confidence, and if the children agree, may report back to the parents about what occurs in these sessions.

This is a great way for parents to really understand how their child is feeling and allow sensible, informed decisions to be made which reflect the children's wishes. Not only does this create a more positive relationship between the parents, but also provides the children with the best outcome moving forward.
Experience matters
We understand the turmoil and uncertainty that surround families going through separation and divorce. James Noble is a family arbitrator and experienced mediator that provides appropriate recommendations regarding children's matters.

This process involves providing advice on which parent the child should be living with, how much time the child should spend with the other parent, and how issues such as health, wellbeing, and education can affect arrangements.
Watch this  video by James Noble, If you are looking for more info about Divorce Property Settlement
Need Legal Help?
If you need help, please contact the Brisbane Family lawyers team at James Noble Law today for a FREE, no-obligation 20-minute consultation. To schedule an appointment with one of our Qualified and experienced Family lawyers Brisbane.
Find Brisbane family lawyers on Google Maps near you.
You may also like to know more information about the